South Indian Tiffin Centre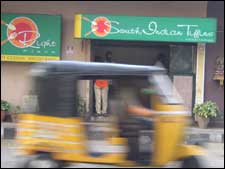 The breakfast destination for hundreds of people in the Srinagar Colony-Banjara Hills area, this little joint is most popular for takeaway. What sets it apart from the many similar 'darshini' restaurants is that you pay the same price but get great value for money because the food here is excellent, morning after morning.

Fresh and tasty, most everything here is worthy of recommendation. The usuals like masala-dosa and idly-vada are the most popular, but if you do decide to try something different you're in the right place. The mysore bonda, MLA pesarettu (served with upma), uthappam and tomato baath are good, as are the aloo-puri and rawa dosa.

SITC has a small eating-in section, but it's unlikely you'll find any room here in the morning. Sit outside instead, in front of the adjoining fruit-juice stall. You get very good juice here, and since they use seasonal fruits you can go sugar-free and enjoy it just as much. Juice Plus, the stall, does especially well in the evenings.

While every colony has at least three such breakfast joints, this one finds its way into our top-list because it's so famous people will travel to eat here. Any place that gets you to go out of your way during your precious morning-hours just for a plate of golden-fried vadas deserves at least a special mention.
SOUTH INDIAN TIFFIN CENTRE SNAPSHOT
Listed In

Address

Distance

Sub-Categories

Recommended Dishes

Parking

Veg/Non-veg

Timings

Closed On

Average Meal Per Couple

Payment Option(s)

Closest Bus Stop

Closest MMTS Station

Add New Field:
EVENTS AT SOUTH INDIAN TIFFIN CENTRE
There are no events at South Indian Tiffin Centre scheduled currently.
LEAVE A COMMENT
fullhyd.com has 700,000+ monthly visits. Tell Hyderabad what you feel about South Indian Tiffin Centre!