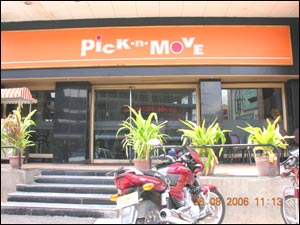 This one is big-time. A major landmark on the Himayatnagar main road, Pick 'N' Move has an air of having been around forever, despite its latest makeover. Popular as a hangout spot and a big attraction for sundae-lovers everywhere, this joint is great for a mid-shopping break or a treat after college. In fact, loud music and a perpetual throng of college-students are the defining characteristics of the place.

White it's not exactly an economy joint, it's still possible here to grab a decent bite without spending too much money. Softy and frozen ice-creams are the specialties here, and guests love the Triple Sundae and Rainbow Cone. If you'd rather play it safe, try the Vanilla-Chocolate Combo Softy or the Choco-Dip Cone. In fact, anything dipped, swirled, tossed or generally smothered in chocolate is great here.

Pick 'N' Move is also popular for its burgers - especially the Maharaja with extra cheese - and pizzas, the Farm Fresh being the best of the latter. Apart from this, there is also a big demand for Manchuria and Grilled Sandwiches.

Eating places are a dime a dozen in this particular part of town, but Pick 'N' Move has managed to hold its place simply by getting there first and doing it best. If you want a place to sit a while over your drink, then, on the over-polluted, over-populated Himayatnagar stretch, this is your best bet.