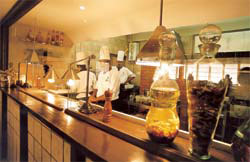 There are places in town people go to be seen at, and places they go to watch other people make fools of themselves. But despite all the hype, hoopla and Page 3 coverage this restaurant's been getting, you'll visit F9 more than once only if you really like the food. And despite all its other considerable merits, this is the only reason F9 deserves to be in the news.

The city's first lounge bar and restaurant might have the most 'happening' crowd dining with them, but you won't be bored enough to watch out for this dubious lot. You'll be perfectly content sitting in your pool of candle-light watching the lovely reflections it casts on the long-stemmed jar of olive oil on your table. It's obvious a lot of effort and thought have gone into giving F9 its laid-back but undeniably intimate charm. This is a place for conversation, sips of your favorite poison and, above all, for good food.

The name of the restaurant is the number of cuisines you'll find here at any given point - Indian, Chinese, Thai, Indonesian, Italian, American, Middle-Eastern, Vietnamese and European. Fortunately you're not handed nine menu cards, but instead encouraged to try whatever strikes your fancy. The menu isn't alarmingly large, nor does it speak in tongues. It's fairly compact and manages to pack in four things you'd like to try at once.

The best way to go about is to get something from each province so you won't feel like you're missing out on too much. For starters, you must try the Arabic Kafta Kebab, a mincemeat cutlet served with pudina chutney. Superbly moist and fragrant, as are the Chicken Satay and Reshmi Kebab. Falafel Kebab and the antipasta salad are good vegetarian appetizers.

Things get slightly more complicated at main-course-level, so we'll take you through the most popular dishes: go Italian with the cheese-filled, olive-sprinkled Veg Calzone, the tomato-based Penne Nerone, or the Ravioli Ricotta E Spinachi. The Indonesian Nasi Goreng is not for everyone, but if you like your food spicy and plentiful, you'll like it.

F9 is most popular for its steaks, with fillet of fish, grilled and topped with lemon sauce. Breast of chicken and tenderloin are the other options for steaks, which are served with herbed rice, potatoes, buttered vegetables. Quite a meal in themselves, but not heavy enough not to leave enough place for dessert.

One of Hyderabad's most successful desserts-person Anelise is in charge here, and her brownies are prolific. Gooey, chocolatey and with a sprinkling of walnuts, they're perfect. Or you can try F9's own bundles of pancakes, crepes filled with chocolate and with a generous pouring of chocolate sauce and nuts.

F9 has a few weekly themes happening, like the Sunday Champagne Brunch, Arabian Thursdays and Random Access Mondays, when IT and BPO professionals get a discount on food and drink.

If you're not yet hungry for supper, you can lounge about nursing your drink, stirred to perfection by the bartender stolen from Geoffrey's, Bangalore. No matter what your agenda, if it involves scrumptious food, wine and candle-light, then you're home at F9.