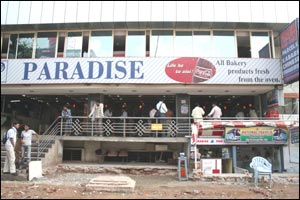 They did it. They paved Paradise. Many a foodie's heart broke when Hyderabad's most famous biryani joint was torn down to make room for wider roads. Fortunately, though, it's not all lost, and Paradise still clings tenaciously to its top position on the biryani-index. But there have been a few changes. And one of the most welcome ones has been the opening of a bigger, better fast-food and takeaway joint next door, which is packed solid till closing time every midnight.

Paradise Food Court is so popular that you'll have some trouble finding parking space nearby. Covering a large area, this bakery is divided into two parts, one for smaller snacks, ice-creams and the like, and the other for kebabs and takeaways. The bakery opens quite early, by 5am or so, but the take-away counter only starts at 11am.

The larger section is a dine-in of sorts, but without any seating arrangement. The menu is hugely extensive so we'll riffle through the hottest-sellers list. For a snack, people prefer the famous puffs - veg, egg, chicken or mutton. The irani samosas are also well-loved. As are the cakes, pastries - Pineapple, Italian, Litchee - and the Plum Cake, samosa irani. The ice-cream parlor is best for Faluda or Lassi.

At the kebab counter, the most demanded items are the Tandoori Chicken, Kalmi, Garlic, Sheekh and Tangdi Kebabs. The famed Paradise Biryani is also sold here. The take-away section is more expensive than the bakery, but it's possible for one person to eat comfortably within a Rs. 50 budget.

This is generally a great place to pick up some food on your way home - it's much too noisy and crowded to enjoy a meal here. But visiting it does your heart good to know that Paradise crossroads remains one of the twin-cities' busiest food centrals.
EVENTS AT PARADISE FOOD COURT
There are no events at Paradise Food Court scheduled currently.