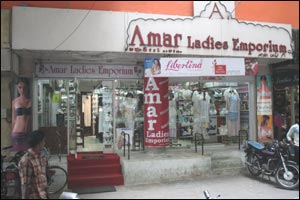 Before department stores came along, shopping for girl's stuff was much simpler. You went to the same store your mother'd been going to forever, and you knew everyone there. And they knew you. They kept your favorite brands aside, gave you blunt and useful advice regarding padded bras, and knew your budget well enough not to embarrass you into looking at Gucci watches with your Titan-allowance. Amar is a store like that.

A place mostly for cosmetics and accessories, from bags to underlinen, Amar has been around for quite a while, and with a section of shoppers it continues to be the place for quality merchandise. Preferred for its range of underlinen, Amar stocks Lovable, Liberty, Juliet and Evamode.

Indian cosmetics brands like Biotique, Ayur and Shahnaz Hussain also find permanent space here. Apart from that, Amar is a good bet for the most comfy nightclothes, from pajamas to gowns made of the softest cotton and in lovely pastels. If you're at the store, you could also check out their range of leather wallets and bags.

Insider tip: The salespeople are friendly, but have been known to take pushiness to new and frequently unbearable heights, so make sure you're clear about what you want, or you'll get bulldozed into buying things you don't really need.
EVENTS AT AMAR LADIES EMPORIUM
There are no events at Amar Ladies Emporium scheduled currently.