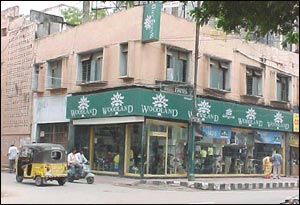 Dancing on the fat line that separates casual wear from office wear, Woodland apparel could be classified to be trendy office wear. Most of the clothes are plain and simple, yet have a touch of elegance to them. The clothes here have soft colors, and are a safe range that will be appropriate in any office. The clothes for women range from Rs. 600 to Rs. 1,400, while those for men are slightly more expensive - Rs. 200 above the ones for women.

Woodland shoes have been known for their sturdiness, and they definitely look long-lasting. The shoes for men and women are mainly flats, ideal for college and work, and quite comfortable. The majority of the shoes here have a theme of earthy tones, but a small misfit collection of glittery bright shoes for women is also available. A fairly large number of adventurous shoes for men is available as well. The footwear for men ranges from Rs. 1,295 to Rs. 6,000, while for women it is Rs. 800 to Rs. 1,400.

The downside to this store is that it tries too hard to attract people, and not only for shoes but for other Woodland merchandise as well - which seem less satisfactory because they have a narrower range compared to the shoes in the store.

On the whole, it's a decent store, with pleasing ambience and adequate staff who would courteously help you with whatever required. It has spacious trial rooms, and is definitely worth a look if money is not an issue.
EVENTS AT WOODLAND SHOES & APPAREL
There are no events at Woodland Shoes & Apparel scheduled currently.
LEAVE A COMMENT
fullhyd.com has 700,000+ monthly visits. Tell Hyderabad what you feel about Woodland Shoes & Apparel!