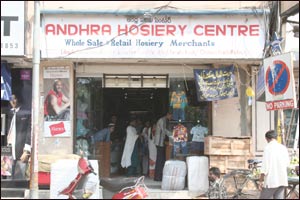 If there is one store on this planet that you should never ever venture into to buy your first bra, it is Andhra Hosiery. This is how it would go:

Your mother to the salesman: We need a bra for her (nudges you).
Salesman (looks at you appraisingly and yells into the godown): Chotu, training bra, 26A
You (dissolving slowly in a puddle of mortification): gloop gloop gloop

Despite the huge potential for embarrassment - especially when you run into a classmate or, worse, your PT teacher - Andhra Hosiery remains a much-loved store for buying underwear. Not lingerie, mind you, but good ol' sensible, functional underwear.

The store is one long hall with a counter running along its length, and is usually crammed with auntyjis, some testing the ware for elasticity, others just collecting a steady pile of packets by their side. A lot of people visit the store every few months and buy everything they need at one shot. Makes sense - shopping here can really take it out of you, especially if you visit on a crowded Saturday.

Apart from prosaic items of innerwear, Andhra Hosiery also has a selection of frocks for little girls, sweaters, stockings, fancy socks and handkerchiefs. Yes, handkerchiefs. You'd be surprised at how many different kinds there are.

You'll find all the more popular brands here, and they have a permanent supply of difficult-to-find makes like Libertina. Apart from desi favorites like Juliet and Daisy Dee, the store also has the latest in Lovable and Liberty. And despite the largely female clientele, even the men's range here is very good, and even includes a sizeable collection of lungis.

Most of the crowd you'll see spilling out of Andhra Hosiery on any given day shops for school supplies, swimsuits for children, and, of course, undies for the entire family.