Pochampally Silks And Saris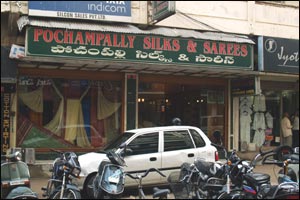 A nondescript store with an unremarkable façade, Pochampally Silks And Saris is indistinguishable from its neighbours, but for its nameboard. However, it is one of the handful of stores in Hyderabad that exclusively retail the famous Pochampally fabric. Started by H Chandraiah in 1975, the store sources its stock directly from the town of Pochampally (60km from Hyderabad). At any point of time, they have about 1,000 saris, salwar kameez pieces, bedsheets and other furnishings.

When shopping at Pochampally, check out the following:

1. Ikkat Patola saris of raw spun silk. They come in single- and double-weaving, meaning either only warp or both warp and weft are woven with a particular color. Double-weaving is more expensive. Typical motifs are 4 pans and nari kunj (elephants and parrots). Don't bother with the detail if you think it's too much trouble. Viewed gestalt, the color contrasts and the characteristic fray-edged geometric patterns are quite eye-catching and exclusive. Priced Rs. 5,000 upwards.
2. Khadi silk saris with bold prints. The kind Indira Gandhi used to wear.
3. Heavy pure silk saris with silver zari work and butis. Rs. 6,000 onwards.
4. Cotton, 3-piece salwar kameez fabric. Rs. 350 - Rs. 500

The particular charm of shopping at a store like this is the Malgudi-grandpa-like salesman with a school teacher's appreciative attitude to questions about the saris. Clearly a veteran among these salesmen, he is knowledgeable and takes positive delight in describing his wares. It's a touching (for the fast disappearance of such stores) and refreshing change from over-eager salesmen who will explain only as far as it helps them to sell their wares.

Visit this store for a definitive collection of authentic Pochampally. Whatever your budget or taste, you are likely to find something pleasing.
POCHAMPALLY SILKS AND SARIS SNAPSHOT
Listed In

Address

Telephone

Distance

Website

Sub-Categories

Year Started

Timings

Closed On

Prices

Payment Option(s)

Closest Bus Stop

Closest MMTS Station

Add New Field:
EVENTS AT POCHAMPALLY SILKS AND SARIS
There are no events at Pochampally Silks And Saris scheduled currently.
LEAVE A COMMENT
fullhyd.com has 700,000+ monthly visits. Tell Hyderabad what you feel about Pochampally Silks And Saris!