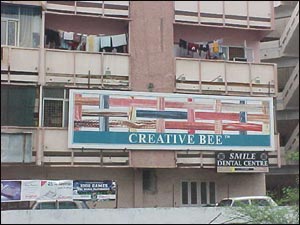 Situated in the heart of the city, Creative Bee boasts of the very finest in home furnishings and handlooms. Churning out rugs, quilts, wall hangings, bedcovers and the like, it is the one place to go to for turning your modest little 2 room apartment into home sweet home. Stoles, saris and salwar kurtas are also available to further entice you.

With specially spun yarn, and block designing with natural colors and dyes, Creative Bee's concerted effort for quality is most visible. With only 10% being retail business, it mostly undertakes major refurbishing contracts for big customers such as hotels and corporates.

Catering to industrialists, politicians, film actors (Shabana Azmi loves this place) and essentially the 'cream' of Hyderabad, this designer studio is not looking out to make it go easy on your wallet. Of course, its contention is that the regular yuppie has no idea about the worth of their work, how difficult it is to create it, how natural the dyes are and how unique their designs are. It's interesting to see such conviction.

Nevertheless, should you be courageous enough to overcome the first obstacle of not knowing the worth of their work, this is certainly worth a visit. And then who said it stops there? Having crossed one hurdle, watch out for the other when you silently gaze at some ethnic looking stole and your fingers slip to the price tag. It could cost more than even Rs. 700. The prices can rage unto four figures, with saris reaching a staggering 20K.

All in all, great stuff, but at quite a price. Give it a go if you've got the moolah and, of course, the deep perception of the brilliant, natural designs and fabrics (no, I mean it!). Else, this place is strictly for the 'Queen Bee'.