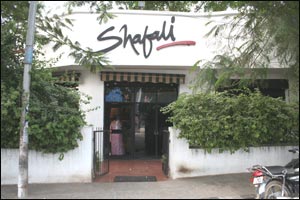 Have you ever wondered why God cursed the rich with such bad taste? Lion's foot couches, puke-green velvet upholstery and grotesque designer jewelry are not the worst of it, either. So it's a relief to actually find a place that only stocks goods for the aesthetically-blessed millionaire. Like Shafali.

Oh, it's true that some perfectly middle-class junta shops here too, but not very often, because the store carries a price-range that would cause acute indigestion in the heartiest of spenders. The collection is beautiful and fairly exclusive, so there's no danger of finding a cheaper duplicate somewhere else. The prints are bold, in contrasting colors of black, red and white. This is, in fact, the trademark Shafali look, one that's imprinted on its bags, clothes and linen.

The spacious and comfortable showroom allows you to browse unhurriedly through its collection of salwar-kurtas, cushion covers, bedspreads, bolster covers, shopping totes and kaftans. The kaftans especially are lovely, and the range could start anywhere from around Rs. 650. The bed-linen starts at around Rs. 700 (single), and in the kurta range, you'll find some reasonably priced ones at Rs. 500 and thereabouts.

Fancy some art for your walls? Shafali also has framed fabrics, as well as the most visually sumptuous cotton quilts. If a definitive touch of the bold is what you're looking for, then fling thrift to the wind, and stop by at Shafali.