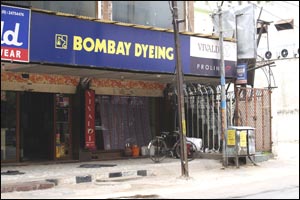 Hello. I'm Grumpy Owner and you can call me GO in short. I sit at one corner of my store, Bombay Dyeing, and make condescending remarks that can jar you. Please do come to my shop if you feel like getting intimidated and uncomfortable.

GO, as he has already claimed, is the owner of Bombay Dyeing at Abids, as he has claimed. This store is 4-years-old, and caters to both men and women. The range consists of trousers (Rs. 595 onwards) and shirts (Rs. 399 onwards) for men, T-shirts, bathgowns (for women), bedsheets (Rs. 475 onwards), towels (Rs. 175 onwards), pillows and blankets. It's open to unsuspecting women and innocent men who bravely venture into this shop to clothe themselves (as GO didn't have to claim).

If you need some ordinary looking clothes (mostly cottons), then this shop is a good place to go to.