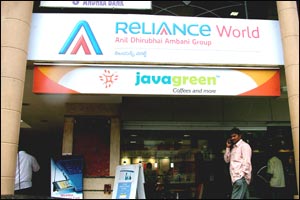 This one's a discovery. No ads, no huge signposts, no tie-ins with other retails, nothing at all to let you know this place exists, except for a small board announcing its presence in the Reliance Infocomm outlet. Now, of course, with Reliance painting the city green, you can't miss that outside every outlet, there sit two or three cafe tables under bright yellow umbrellas.

Java Green doesn't do anything like the other coffee shops. It's small - positively crammed if there's more than four people inside -, there's no coffee perfume wafting about, no merchandise and, most importantly, no over-charging. While it's not economy, this is one of the most reasonable coffee shops about.

And it's a cheerful little place to sit at for a while. The snacks are very good, the most popular one being the Java Wrap, bread wrapped around fried chicken/paneer, onions and mint chutney, and grilled. This a great in-between nibble and goes well with the granitas, which are fruit juices in crushed ice and a truly cool deal at Rs. 20 for a tall cup-full. Granitas
are available in flavors of, among others, Blue Island, lime and Blue Curacao, and Ruby Ice, a mixture of litchi and strawberry syrups.

Another must-have here is the Twinings' Fine Tea, in lovely and unusual flavors like Pear and Guava, Ginger Lime or Raspberry and Blackcurrant. These are wonderfully refreshing and de-caffeinated. Other munchies include the Calzone - nothing to write home about - and the Crumb-Fried Panini sandwich, which is quite a filler at Rs. 35.

The Chocolate Pastry is very good - large, gooey and sinful if they've heated it right. The Pineapple Pastry, a sort of danish sprinkled with dry coconut, is excellent. The range of coffees here is not too extensive, and you have your usual lattes and irish brews. The Hazelnut Mocha, flavored cold coffee with a pouring of chocolate syrup, is a popular choice.

Java Green does not market an 'experience', but this is a perfect place for that much needed cuppa around mid-afternoon. And while the bigger beans have nothing to worry about yet, they'd better watch out.