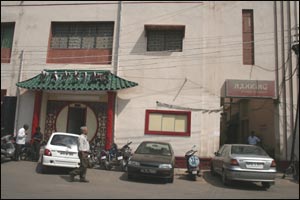 This one's up there with Karachi biscuits, Madina biryani and even - we'll risk blasphemy and say it - the Charminar. For the longest time in Hyderabad, almost 50 years to be precise, if you wanted Chinese you went to Nanking. Even if it was the other end of town, even if it was always crowded, and even though the ambience didn't exactly send you over the moon.

Now with the ever-present 'dragon' bandis at every corner and the extra-swanky 'oriental' restaurants springing up like an epidemic, Nanking is still where it's at for a lot of people. But when you first step into this restaurant, you'll wonder what the screaming fuss is about.

Like all good old eating joints everywhere, the emphasis here is on the food - everything else is sort of an accidental side-dish. Nanking is usually crammed with office-goers on their lunch-break, so it tends to be noisy. Besides which, the lighting is almost morosely dim. In fact, the best way to try this restaurant is to not eat here at all, but take the food home.

Why, then, is this place so popular? Well, once you're seated, the service is satisfyingly quick, the portions are generous (and reasonable), and the food is simply yum. And, of course, if we're talking about a vintage restaurant, then we must take you through the favourites.

For starters try the Crispy Chicken, or its ginger-y counterpart. The fiery wanton dishes are also very popular, especially the soups. Bamboo-Shoot Noodles with Roast Pork is classic, but the noodles also go great with the Vegetable Chow (mushrooms and bamboo) or Chicken Sweet 'N' Sour. It doesn't really matter what you order, as long as you stick to the fairly conventional. Dessert is sort of an afterthought here - if you'll excuse the pun! - so your choice of ice-cream slab is about all you'll get.

In the age of first-impressions and super-packaging, Nanking surprises you by not giving a damn of what you think of their personal charms. During peak hour (which usually lasts all lunch or dinner) you'll be asked to wait interminably for someone to clear their table. 'How long will it take?' you ask with the kind of desperate hope that springs straight from an empty stomach. The man at the counter shrugs - it might take fifteen minutes, it might take an hour. PR is not their biggest asset; they prefer to put their money where your mouth is.
EVENTS AT NANKING RESTAURANT
There are no events at Nanking Restaurant scheduled currently.