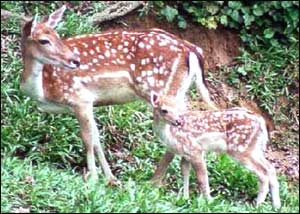 128 deer, 15 different species of birds and snakes, and monitors afoot. This is not the forest version of Fear Factor. Far from it. It's the deer park right in town, alongside Shamirpet Lake.

Yes, it's brave to think of driving up to Shamirpet in Hyderabad's traffic on any weekday. It's brave to think of it on weekends too these days. But once you get out of the claustrophobic city roads, the drive up to the park is quite pleasant, especially if you can make it on a weekend morning by around 9am. Although the distance from Secunderabad is around 35 kilometers, you may even make it in 45 minutes flat.

And what can you expect when you get there? Deer, of course! Yes, there are almost 130 of them. And there's more - with around 80 acres allocated for the animals, this place is a gem for those who like to commune with nature, trek for long distances and fear no slithers and hisses.

The trail of the deer can be followed via the hoove marks on the ground, and all of a sudden you see a streak of brown jet past. Yes, while there are plenty of deer around, too much noise unfortunately scares them away, and they will not venture near until the air is clear of Eau de Man. If you can slow your steps down, wait for a bit, and not rustle on the dry leaves, then you just might find yourself awarded for your patience and see a magnificient stag or a bashful doe looking straight at you from the edge of the clearing or from behind a rocky outcrop.

The best part about just wandering in the park, all the while looking for the telltale hisses, is that the deer have been kept in a setting which is akin to the one they were initially brought from. And there is plenty of space for romping and gambolling as opposed to the artificially created jungles found in various zoos.

The hoove-mark trail will take you past little ponds of water, with trees dipping their fronds into them. These are the watering holes for the deer, apart from the water troughs laid out for them at regular intervals in the sanctuary.

The main sight to see, however, is from the observation tower. It shows off the entire Shamirpet Lake, and if you can camp out there for a while, you will find many a deer coming forward from its hiding place, towards the breezy tang the lake blows its way.

To make the park more prominent and popular, the state government has roped in the tourism department with the intention of building cottages smack in the middle of the park. Of course, all care will be taken to ensure that the deers' privacy isn't tempered with and that litterbugs don't turn this little piece of green tranquility into a garbage dump. Maneka Gandhi, are you listening?

For those who want more from nature that just deer gazing, there are special grappling programs held, and picnics too can be organised with prior permission from the Forest Department. But even with many changes that are required in the sanctuary overall, it's an effort worth applauding. In these busy days, to think of, care for and nurture that many animals calls for dedication.

Now all that remains is to entice the deer out with a bait and take that perfect picture for the album.
EVENTS AT JAWAHAR DEER PARK (SHAMIRPET)
There are no events at Jawahar Deer Park (Shamirpet) scheduled currently.
LEAVE A COMMENT
fullhyd.com has 700,000+ monthly visits. Tell Hyderabad what you feel about Jawahar Deer Park (Shamirpet)!