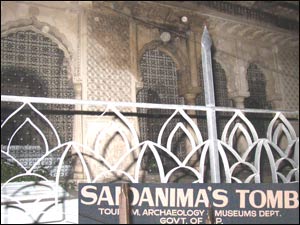 The security guard asked me to come back during the daytime when a thin ray of sunlight might still enable me see my own eyelids batting. Perhaps he was more concerned about losing his job if I stumbled and broke my neck while going down at that hour. Or perhaps he felt for me - for he added somewhat sheepishly, "Get some flowers when you come next amma - I hear she used to like roses."

So there I was the next day, with roses in hand (from my own garden, no less) and descending down the steps where the visibility was only marginally better than it had been promised. The floor boards were wrenched up with some difficulty, dislodging a lot of dust bunnies, and then the guard bade us enter somewhat reverentially.

The descent into Saidani Maa Ki Dargah is nothing short of an obstacle course, considering that you have avoid feathers of pigeons, roach carcasses and the vivid green curtains (which reeked of mustiness) and go past a door which has to be swung open revealing a space which clearly calls for those of a petite build. But that and ensuing claustrophobia apart, when you finally view the grave, you have to marvel at the dowager's tenacious last wish. In a bleak, stifling room she lies.

The question is now abegging - who is Saidani Maa?

Saidani Maa Saheba was a woman from a royal family, and had been brought up to believe that the fairer sex needed to the shielded from the prying eyes of all and sundry and, yes, from men. So right from the time that she was 10 years old, she had stringently maintained the custom of purdah, and it had become an intrinsic part part of her life, to the extent that she had insisted on being emtombed much beneath the surface, and in a manner where only women could pay their respects to her.

And so it came to be, courtesy of her dutiful son Nawab Abdul Haq Diler Jung, in 1883. He was an officer in the court of the Nizam Mir Mehboob Ali Khan, and in the position to get the best that money could buy to honor the memory of his mother. The mausoleum was built with lovely lattice work, and the onion dome so frequently found in Islamic architecture. The grave has been fashioned in the prevalent fashion of the day - a combination of Qutb Shahi and Mughal styles of building. The Archeological Society of India has taken over the upkeep of the tomb.

Once inside the mausoleum, you come across tombs which appear to be of an entire family. They surround a raised platform in the center which is always kept covered by a green cloth. Beneath this structure lies the actual grave of Saidani Maa. Covered by a gaudy cloth and the peacock feather chamor, her tomb is not much different from the many Islamic tombs that you may come across. What really sets it apart is her edict about no man being able to lay his eyes on her even after her death!

The crypt is another thing altogether. Kept locked up at all times, it is opened only on request, and is a dark, dank place which requires you to grope your way around the place. It is not for the fainthearted, as it is pitch dark and the air is heavy with a kind of smell you cannot put your finger on, but definitely do not want to keep inhaling for long.

The watchman stared at me approvingly as I had my head covered. Before he could mistake me for a devout blessing-seeker, I told him it was to keep any eight-legged freaks off my hair. I left him muttering about the women of today. The message should have been to keep a historical/religious place much cleaner.

The Saidani Maa Ki Dargah is a tribute of a son to his mother's memory and her values in life. Ladies, do stop by and take a look at a strong-willed woman's life-long beliefs being upheld even today.
LEAVE A COMMENT
fullhyd.com has 700,000+ monthly visits. Tell Hyderabad what you feel about Saidani Maa Saheba Ki Dargah!