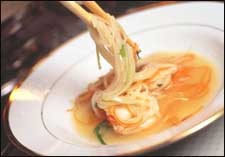 In the beginning there were a handful of "oriental" restaurants, only they were called Chinese. If you lived around Secunderabad you went to Nanking, if you lived in Hyderabad you went to Blue Diamond or Haiking. It didn't really matter because you order the same manchuria-and-noodles everywhere. But then someone thought to ask, "What about those other places near China? What do they eat? And what is Thai for manchuria?"



To answer these questions and take your taste-buds globetrotting, restaurants sprung up that specialized in regional cuisine. And like the others, Just Oriental too doesn't promise the earth, just the entire Southeast Asian region of it.



We'll spell it out for the geographically-challenged - Korea, Malaysia, Japan, Mongolia, Thailand, and oh yes, China also. Dishes from all these countries have made their way here, and the distance hasn't rendered their names any easier to pronounce.



JO has a very extensive selection of cuisines and chances are halfway through deciding you'll just give up and let the waiter pick whatever he likes. There is such a thing as too much choice. JO's menu actually comes with a bookmark, for easier navigation.



The starters have nothing particularly new for the vegetarians, there are the usual baby potatoes, corn and mushrooms deal here. But in non-veg, the Kai Hoi Bai Toey (Rs. 99) is unusual, made from marinated chicken wrapped in mango leaves and fried. Crispy Duck (Rs. 119) and the Lobster and crab starters (Rs. 300) are for the slightly more adventurous.



The specialities of the house that are uncommon elsewhere in the city include the lobsters, the shark fin soup and Tom Kha (Rs. 69), a spicy soup made from coconut milk. For the main course, if you're looking for something different, try the Keoy Teow (Rs. 70), ribbon noodles from Malaysia, the Korean fried rice (Rs. 120) or Okayo (Rs. 79), a Japanese rice and corn dish that is quite a meal in itself.



The desserts menu has some new dishes like, the Lychee Toffee with Sesame & Honey (Rs. 60), Honey Noodles with Ice Cream (Rs. 65), and Banana Toffee with Ice Cream (Rs. 55).



Although it's hardly a budget joint, Just Oriental isn't as expensive as certain other high-end Chinese restaurants in the adjoining areas. The décor is simple and it's a good place to entertain a large group of people, thanks to its general feeling of space. But because of its isolated location, Just Oriental is more likely to attract residents of the area rather than visitors from further away, who quite simply might not consider the trip worth it.