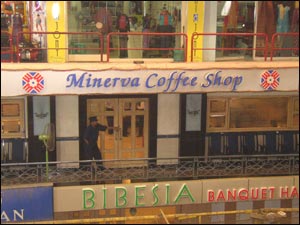 Minerva means different things to different people. Steaming, fluffy idlis. Super-crisp 70mm paper dosas. Mushy rice pongal with coconut chutney. In short, all those delish dishes that are clubbed together in the South under that succinct title - tiffins.

Look around you any time of day, and you'll see that Minerva attracts people of all kinds. Swarms of students descend for breakfast after their morning classes, office crowds come down in twos and threes for a quick lunch, and late afternoons find families and shoppers happily digging into the large vegetarian thalis.

While it isn't exactly cheap, Minerva is considered good value for money, taken all around. You get good sizeable portions - the dollop of butter on the masala dosa will satisfy even most conscientious penny-pincher -, the accompaniments (sambar, chutney, aloo curry et al) are excellent, and once you've had the onion rawa dosa here, nothing else will come close. Other must-try dishes are the button idlis, the onion uthappam, and, only up till 11am every morning, the rice pongal, served with a special tomato pachchidi and freshly ground coconut chutney. To die for.

And Minerva serves up pretty good North-Indian food, too - Kadai Mushroom and naan is a particularly good combo. The tomato soup here is also a big hit. Soft noodles and vegetable sweet 'n sour is another popular option. Basically you can't go too far wrong with anything here, so bring your appetite and get ready to get hooked.
EVENTS AT MINERVA COFFEE SHOP
There are no events at Minerva Coffee Shop scheduled currently.