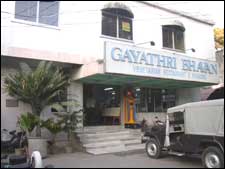 Many a dyed-in-the-wool Hyderabadi has a soft spot for Gayatri Bhavan. It's reminiscent of college-student-budgets, post-shopping grub and quick crowded lunch hours on the way to something more important. The food is very good, and cheap. And the entire joint is housed in a tumbledown old building, after it was forced to shift from further up the road.

Buzzing with activity most of the time, Gayatri Bhavan is strictly for people who enjoy good food, but don't necessarily want to go bankrupt over a meal. Granted, most tiffin centres promise this, but you must visit GB, if only to see the variety of people that drop by. And parking is never an issue here, there's plenty of room. Huge trees stand at the entrance, and the interiors are simple, functional and because they're slightly removed from the traffic, also quite chilled-out.

You're seated as soon as you arrive, unless you happen by at breakfast, lunch, or dinner, or tea. Luckily you can reserve tables over the phone. Now how many tiffin centres give you that kind of service? Speaking of which, you must speak with the waiters to find out more about the specialties of the place. They are a friendly lot, and it's a wonder they don't look more harassed, considering the number of people vying for their attention.

The most popular dishes at GB are, in the words of the proprietor, idly-vada-dosa, so take your pick. The sambar here is delicious, and so is the allum (ginger) chutney). All others in the dosa family - uthappam, pesarettu, rawa dosa etc. - are also pretty hot sellers. Puri and aloo kurma is another hit and so surprisingly, is the usually avoided rawa upma.

When you've had your fill, loosen your belt, struggle out of your seat, and pop a sweet paan in your mouth - you're ready to face the world. And you're definitely visiting again.