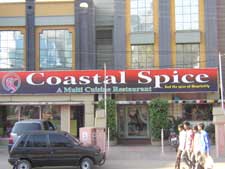 Lovers of seafood are not easy to please. After all they're spending almost double the amount herbivores do, so they're sticklers for quality and freshness. (Ever met a person who's just had a plate of bad prawns? Not a pretty sight.) Luckily, these foodies won't have much to complain about at Coastal Spice.

While the look of the place is nothing to write home about (the home-delivery section is popular), you won't have reason to crib, and the service is efficient and attentive. This restaurant is definitely worth a try, because it actually keeps the promise of its name and serves up some eye-and-mouth-watering concoctions of fish and prawns.

If you want a tour of what the regulars order every time they're here, then it would go something like this: for starters, the NTR Pakodi or the Bangala Dumpa Vepudu (potato fry). At main-course, rice goes great with the mildly tangy Nellore Chapa Pulusu, or the Bommidala Pulusu (made of a special tiny variety of fish). The prawn fry and Kodi Iguru (chicken) are also pretty good here. Desserts include ravva laddoo, semiya payasam and kesari.

Popular North-Indian dishes include butter paneer, malai kofta and chicken 65. And in Chinese, people prefer, soft noodles, vegetable chow chow and ginger chicken.

CS usually has some promotional event happening all year round - food festivals, tie-ups with beverage companies and the like - so you might want to ask for the deals on offer. On the whole, this is the kind of place you'd go to for a reasonably priced taste of the finds from the coast.