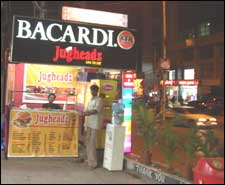 It's 2am on a Saturday night and you're home in bed sleeping. No of course not, you're out there partying it up like the wild party animal that you are. When suddenly, for no reason apart from the fact that your last meal was 6 hours ago, you realise you're ravenous. Eating at the disc you're at is not an option, either because the food is at five-star coffee-shop rates, or because it's vile. So what is a self-respecting party-goer to do? Go home to mom and upma? Or grab a bite at the city's latest all-nighter snack bar?

We're assuming you'll go with the second option, so here's a little something about Jugheadz. Inspired by the comic world's bottomless pits to end all bottomless pits, Jugheadz proudly proclaims its heartwarming philosophy - Live to eat.

A tiny little stall that you'll miss if you sneeze, Jugheadz is a great idea for three reasons. First, it's cheap. Really, that should be enough hard sell to convince you. Second, it's right there, on the way home from Treasure Island and very close to a lot of the city's pubs. Third, it has good food.

There are some interesting dishes on the menu you might want to check out - the apple-topping pizza which is quite a hit, as is the jugheadz special sanwich, not to mention the spicy spanish omlette and the fried chicken, which is generous enough a helping for two.

The joint also has pancakes (with honey), burgers, pizzas, fries, lamb chops, cutlets and rolls. The Mexican Rice and French Toast are also hot-sellers. And if you're too lazy to come get it, they'll deliver it free (provided you're within a 3-kilometre radius).

All prices are between Rs. 15 and Rs. 55, and the service is quick and friendly. So the next time hunger strikes at mignight, you know where to head.