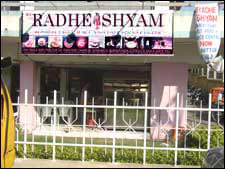 Loyal followers might be dismayed to note that Radheshyam has gone posh. Once a major roadside hangout for every college-goer in the 5km radius, it is know a respectable indoor place with tiles and everything. But the raison d'etre of the place remains - the pani puri.

Served with icy cold pani and filled with a spicy potato and onion stuffing, this is their most popular item, even at Rs 1 per puri. It's not uncommon to find a throng still at the roadside bandi, happily gulping away. Although there is a small section here for other chaat, it's rarely full. People prefer to grab a bite and leave, not spend too much time contemplating the shack they're seated in.

The other chaat is not as good, and the bhel puri can make your eyes water. But there are many takers for the ragda cutlet, however if you have the time, you're better off going to Parklane for ragda.

Although this is rule number one when you're eating from any roadside chaat bandi, it is especially pertinent here - do not, if you can help it, look too closely at how he's washing the dishes or how clean your pani-puri wallah's hands are. If you're going to have any fun eating out, it helps to look the other way.
EVENTS AT RADHESHYAM CHAT BHANDAR
There are no events at Radheshyam Chat Bhandar scheduled currently.
LEAVE A COMMENT
fullhyd.com has 700,000+ monthly visits. Tell Hyderabad what you feel about Radheshyam Chat Bhandar!