Keshav Reddy Chaat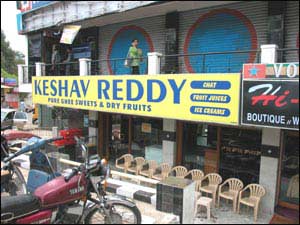 Known primarily for its gulab jamuns, this sweet store has the most sinful pav bhaji in town. If you're dieting, you're in the wrong place.

The pav is soft, fresh and toasted in butter, while the bhaji is tangy and served with a melting dollop of yes, butter again. But it's worth every last morsel of sin, being quite a meal in itself and the perfect thing to wash down with a glass of mosambi juice (another one of their hot sellers).

Other must-haves here include the dahi kachori, ragda cutlet and bhel puri, which they are rather generous with. The food is not too spicy here and except for the annoying flies, it's a nice enough place to hang out for a while. The place is mostly frequented by families doing their weekend shopping at QMart and students from Muffakam Jah college.

Of the juices, the grape and pomegranate are good. While Keshav Reddy is slightly more expensive than other chaat places, it's worth it. Drop in the next time you're in this area and have a craving for chaat.
KESHAV REDDY CHAAT SNAPSHOT
Listed In

Address

Telephone

Distance

Sub-Categories

Recommended Dishes

Parking

Veg/Non-veg

Other Specialities

Year Started

Timings

Closed On

Average Meal Per Couple

Payment Option(s)

Closest Bus Stop

Closest MMTS Station

Add New Field:
EVENTS AT KESHAV REDDY CHAAT
There are no events at Keshav Reddy Chaat scheduled currently.
LEAVE A COMMENT
fullhyd.com has 700,000+ monthly visits. Tell Hyderabad what you feel about Keshav Reddy Chaat!