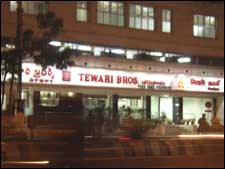 It's a well-researched fact that it is impossible to tire of chaat. But every now and then, you might have a craving for something different from your usual plate of ragda cutlet. Besides, how often are you getting the authentic stuff? Like they make in Rajasthan? Agreed, this is not a primary concern as a pani puri explodes happily in your mouth, but the question might occur to you at some point. This is your cue to visit Tewari Brothers.

Situated slap bang in the middle of the Khairatabad X roads, this mithai shop has more to it than just hot jalebis. Apart from a huge range of sweets (Bengali and others) this store has the best 'different' chat in the twin cities. The flavours are like nothing you've had anywhere else.

Even the menu is uncommon. The raj kachori, is a giant cousin of the puri, and this is filled with potato, cholay, spices, curd, crunchy sev, and a generous helping of the meeta chutney. It's genius. As is the mixed chaat, ideal for the really hungry. If you don't know what to get, this is a good idea - it is the most delightful mix of dahi wada, papdi, cholay, cutlet and sev. The pav bhaji here takes a little getting used to, it's not as strongly flavoured as the usual, but its subtle flavour makes it quite easy on the stomach.

A little diversion from the chaat theme - while you're at this place, also try the dhokla sandwich and the mini kachoris, which they serve with hot and sweet chutneys.

Tewari Brothers is a purely vegetarian joint, which means they don't even use onions or garlic. So how, without these crucial ingredients, do they manage to make such yummy chaat? Drop in and maybe the chef will tell you himself. But of course, then he'd have to kill you.