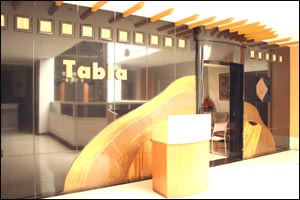 It seems like restaurants can't exist just for the divine purpose of feeding people any more - they must have a theme, a mood, an 'experience' to offer you. And while we don't scoff at any of those great things, Hyderabad is not known to take kindly to restaurants that don't deliver in terms of taste and value for money. So in spite of all the attention its tabla-shaped bar first received, this restaurant must be doing something very right in the food department to turn the random guest into a regular.

Tabla is a pleasant place to spend some time at, and affords a lovely view of the city. The design of the interiors is uncluttered, and the service is helpful and warm. The restaurant serves Indian, Chinese and Continental cuisine, and its best-sellers list is an eclectic mix of them all.

Start off with the Corn Kernel, which is sweet corn stir-fried and tossed with onions, chillies and spice. Crispy Chilli and, surprisingly enough, Cabbage Rolls are also quite a hit here. There's nothing different in the soups menu, but the Hot 'n' Sour is good.

The best-loved dishes here are the most common ones. Like the Hundi Biryani, which is usually gone by 10pm. Or the yellow dal, which is so lip-smacking good that people order it with roti no matter what else they're getting. The rotis also go great with Methi Chaman, Chicken Chatpat and the Methi Malai.

Tabla also sells appam-and-stew, that delectable dish from Kerala, which is usually ordered in combination with the spicy Curry-Leaves Chicken. In the Chinese section, the chopsuey is very good, as is the soft noodles and lemon chicken duo.

There's also a small range of sizzlers that do well, and in Continental it's a tie between the Chicken Shashlik and Vegetable Au Gratin. If you enjoy dry-fruits, try the Arabian Delight for dessert. Or play it local with the Qubani-ka-Meeta, another menu-topper.

While you might not travel to visit Tabla, it's a nice enough place to drop in for dinner - the city lights up below you, and a hot plate of hundi biryani hits the spot perfectly.