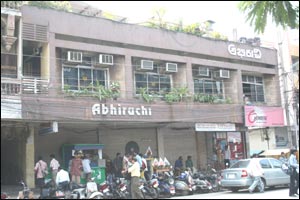 Long before pub-lunches entered the scene, the thali reigned supreme. And it still does, because it's perfect. You have all the ingredients for the perfect meal - pappads, pickles, ghee - at a great price and with refills! The sweetest package deal a hungry stomach has known, and nobody does it like Abhiruchi.

If that name isn't enough to tickle the palate, a peek during meal-time at the restaurant will. A large hall filled with the happy sights and sounds of people tucking in, and waiters with pails of sambar and pots of ghee on stand-by. People on their way to Paradise for a biryani have considerable temptation to fight.

The Andhra thali (Rs. 70 if you're in the AC hall, Rs. 40 if ceiling-fans will do) is completely vegetarian and great value for money. The items might be simple (curries, pulusu and the rest) but together they're lip-smacking good, and people flock here to dig into this delightful medley.

But it doesn't start and end with the thali at Abhiruchi. If you're a non-vegetarian, skip the prelims and go straight to main course. Fish curry and rice, the mutton and chicken fry and gongura mutton are very good and extra-spicy if you want them that way.

But you don't have to order a storm for the true Southie experience. Just get the ghee rice and mash in some gunpowder (karampodi) for a classic combo. Or get curd-rice and tuck in with the occasional nip at the lovely curd-chilli (tiny chillies marinated in curd and fried). Bite into this perfect morsel and you'll find out why Abhiruchi is so well-loved.