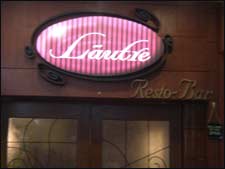 L'Autre as far as we can tell doesn't mean anything, and is the equivalent of a Chinese restaurant that calls itself Ting Ling - nobody in Shanghai may know what that means, but it's sufficiently Chinese-sounding to be effective in Domalguda. Don't let any of this mislead you though, L'Autre may not signify anything to the French, but it makes good on its promise of contemporary global cuisine.

You will find something different here that - and excuse the tired phrase - you might not elsewhere in the city. For example, at its French food festival, this resto-bar went all out Gallic from the welcome drink to the cheese platter to the breads and the desserts. Visit with an open mind and you'll enjoy yourself. L'Autre serves Japanese, Indonesian, European, Burmese, Thai, Mexican and, of course, Indian, among others.

Salads make great starters, and the Mexican Bean, Pasta and Green Salads here are recommended. The Crunchy Babycorn and nachos for vegetarians, and for others the Sozzled Fish (marinated in beer) and Chicken Teriyaki, make for good appetizers as well.

L'Autre's curries are quite a hit. Try the red-hot Thai Curry or the coconut-based Burmese Kauswe, both of which go well with Herbed Rice. As does the Thai-style Stir-Fried Prawns. If you don't want to order a lot of side-dishes, have the Indonesian Nasi Goreng, a bed of rice topped with a curry of fish and chicken and a fried egg.

The best of the Italian selection are the Spinachi Pasta, the Spaghetti Bolognaise and the Chef Di Pollo, chicken breast in white sauce. The steaks are another specialty here, and you can have your chicken or tenderloin steak with a mushroom, pepper or red wine sauce.

Mexican delicacies include the fajitas and the cheese-stuffed Enchilada. There's also a taste of America with the Southern Fried Chicken. L'Autre also makes a good plate of stroganoff.

From the Indian range, try the Jeera Rice with the chef's special Dahi Pakodi Curry or the feisty Murgh Kali Mirch, with its crushed pepper-corn gravy. For dessert, try the sizzling brownie, served with chocolate sauce, or the Jamaican Rum Banana, so called because it's drenched in a lovely rum sauce.

L'Autre also has some unique cocktails, like the Long Island Blue Lizard, which is a mix of white spirits with a splash of blue curacao. Maitai - white rum with egg white and orange juice - is also a specialty, and the resto-bar has a wide range of liquor-based coffees like the Jamaican, the Irish and the French. Teetotalers can go with the Caribbean Calypso, a multi-flavored rainbow drink.

It's a good time to eat out in Hyderabad, with tastes diversifying so much. Continental cuisine, which was once thought of as bland and uninteresting, is now being appreciated for its subtler merits. And L'Autre plays no small part in spreading the word.
EVENTS AT L'AUTRE (RESTAURANT CLOSED)
There are no events at L'Autre (Restaurant Closed) scheduled currently.
LEAVE A COMMENT
fullhyd.com has 700,000+ monthly visits. Tell Hyderabad what you feel about L'Autre (Restaurant Closed)!