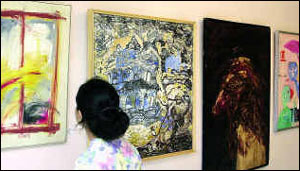 Deemed an ICCR (Indian Council for Cultural Relations) art gallery, Kala Bhavan is anything but that. It is merely one large room which can be rented by artists, NGOs, government organizations and so on. The room is available for dirt cheap prices (compared to the other galleries in town), and you will have the advantage of Ravindra Bharati's popularity backing up your choice. Also, the room is not so hideous, come to think of it. It has sensible yellow lighting and space, as much as any gallery in Hyderabad would allow you.

The person to be contacted regarding any information about the gallery is Ms. Lakshmi. And don't you go expecting any obsequious treatment from either the staff or the officials, for this place is as good as any government body. In fact, if your questions are answered politely, you must thank the Lord for his small mercies.

Of course, you could also keep your ears open for any exhibitions that are held here (which is quite often), and you will see for yourself that the experience is not so disappointing, after all.
LEAVE A COMMENT
fullhyd.com has 700,000+ monthly visits. Tell Hyderabad what you feel about Kala Bhavan / ICCR Art Gallery!