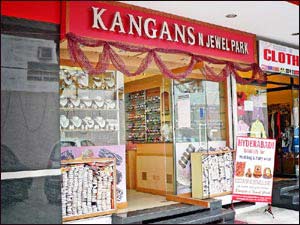 Bangles have definitely come into their own since the days when they were circular and considered very traditional. Today, they are increasingly popular with the Jeans-and-T-shirt youth brigade - bangles have shed their intricate designs and delicate appearance, and now come in geometric shapes, chunky sizes and metallic colors.

It is surprising, therefore, to see a reprisal of the traditional decorative elegance associated with them in an exclusive store called Kangan. The collection here contains gold-plated silver bangles, bangles made of pearls, and those in colourful lac. Though the variety is nothing to boast of, the sheer gaiety and festive look of row upon row of colorful circles is something missing from traditional jewelry stores.

The USP of this store is perhaps the offering of pearls - strings of pearls in various shapes and sizes are available, and the customer can choose both the size of the pearls and the design of the bangle. The bangles are then custom-made to suit your style.

Predictably, the prices are at the high end of the spectrum. A pair of simple lac bangles, which you could easily buy on the streets of Jaipur for a pittance, costs Rs. 20. But since Jaipur isn't exactly next door, and if you're not an avid pavement-shopper, Kangan is a good place for you.
EVENTS AT KANGAN N JEWEL PARK
There are no events at Kangan N Jewel Park scheduled currently.