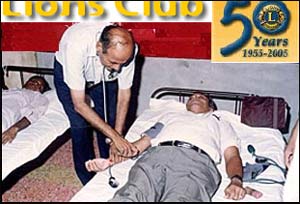 Lions' Club is a mammoth organization that has a substantial legacy of purposeful and grassroot-level projects to speak for it. With its "Service Before Self" motto, it has as much of a diffuse and scopius presence as the Boy Scout and Girl Guide movement. You will find a Lion (as a Lions' Club member is referred to) or two in every neighborhood, and it is as easy to get in as taking an oath in front of the Lions' Club district governor. All they require of you is a willingness to serve and a selfless bent of mind. No wonder they have around 5,000 members within the three Lions' districts of Hyderabad today.

The extent of localization is impressive, with about 15-20 branches per district. Each branch has a minimum of 80 members, a Secretary and a President.

Established as early as 1917 in Chicago, Lions' Club has prolifically espoused new causes. Like serving the blind after a 1925 Lions International Convention address by Helen Keller in Ohio. This was followed by a massive drive to help the visually impaired. It is hard to imagine how organizations this large can be as nimble and proactive. Obviously, the grassroots philosophy really does the trick.

Lions' Club in Hyderabad, too, performs an extremely wide range of activities. Eye camps, blood donations, health camps, donations to schools in the form of books and clothing etc. are regularly held on a large scale. The eye camps often offer free eye checkups and operations. Lion's manages to rope in doctors, authorities as well as local people with a facility that speaks both of its repute and its agility.