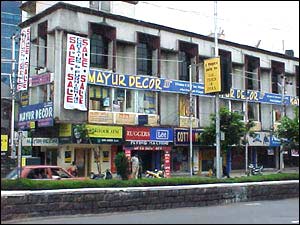 Mayur Decor isn't very impressive in terms of ambience or style of display, but it keeps everything you would require under the heading soft furnishings. Fabric for curtains and upholstery, mattresses, pillows, curtain rods, bed and table linen, carpets and runners etc., all of them.

The prices are competitive, and though you might not find exclusive or one-of-a-kind designs, the stock is good and you won't be disappointed. Ready-made checked curtains at Rs. 275 each, a set of 6 tablemats and napkins for Rs. 250, and floor runners at Rs. 500 for 5', seem very affordable to me.

They offer a tailoring service for curtains, and will send someone over to take measurements. A set of pleated curtains will cost Rs. 35 per length to stitch.

There's quite a large collection of imported table cloths in synthetic material, and I saw some beautiful appliqud table-mats with cut-work that were perfectly suitable for fine dining. These are a little on the pricey side, but definitely worth it if you like to host formal dinners.