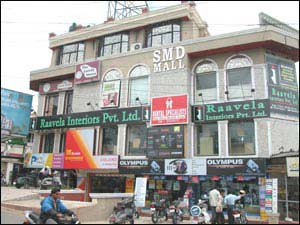 On first look, the Raavela Furnitures Showroom will appear as bare as a newly-eloped couple's boarding room. What meets your eyes is a stark and naked hall; you wonder, isn't it supposed to be a furniture shop? Where is the missing furniture?

A lone employee at a small table (made by Raavela Interiors) informs you that they have an extension branch at Malakpet and another at TMC crossroads, and that's where all the stuff is. After solving the mystery of the missing furnishings, you turn your eyes towards the available trivia. There are around 5 pieces of dining table sets imported from Malaysia by someone and bought by Raavela, which is eagerly waiting to unload it all on you. These sets are priced between Rs. 9,000 and Rs. 14,000 for a 6-seater, and between Rs. 9,000 and 11,000 for a 4-seater. These sets are almost replicas of each other, down to their glass tops and rectangular shapes.

There are also a lone computer table priced at Rs. 3,900 and an assortment of office chairs priced between Rs. 500 and Rs. 7,500. The remaining domain accommodates a sample workstation, precisely two side-tables, and a couple of doors in various stages of manufacture.

Raavela also deals in customised items, provided you like to get it made according to its specifications. They are also the proud owners of a factory that specializes in chair- and door-making. However beds are not their forte, so don't even think about one while inside here.

If you are looking for comfort furniture, or elegance, or price range, or variety, or simple lavishness, Raavela Interiors is just the place not to be.
EVENTS AT RAAVELA INTERIORS
There are no events at Raavela Interiors scheduled currently.