Nartaki 70mm (Lothkunta)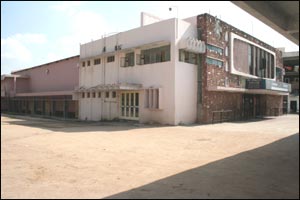 Nartaki is under renovation as we write this in August 2005, but it's never budged an inch from its niche of screening the latest Telugu films since 1976, the year it started.

The only element that catches your attention as soon as you enter the hall is an enormous statue of the Hindu goddess Lakshmi - in a posture that you wouldn't get accustomed to if you're a staunch follower (the statue resembles Nataraja more than Lakshmi). Aside of this, the sparse lobby only holds a few spitoons, and the loo is just comme ci comme ca.

Housing a competent Dolby sound system and ample seating capacity, this theater is popular for screening films starring Tollywood megastar Chiranjeevi. Of late, on public demand, some of Chiranjeevi's older films like Gang Leader, Lankeshwarudu and State Rowdy are also screened once in 3-4 months.

As we said, the theater is getting an overhaul, so things should look better soon.
NARTAKI 70MM (LOTHKUNTA) SNAPSHOT
Listed In

Address

Telephone

Distance

Air Conditioned

DolbyDTS

Tele-Booking

Year Started

Timings

Closed On

Payment Option(s)

Closest Bus Stop

Closest MMTS Station

Add New Field:
LEAVE A COMMENT
fullhyd.com has 700,000+ monthly visits. Tell Hyderabad what you feel about Nartaki 70mm (Lothkunta)!