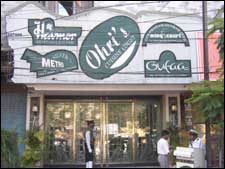 The newest addition to Ohri's Cuisine Court hasn't done too badly for itself. It's fairly packed during weekend nights, and offers an experience completely different from its neighbouring restaurants.

Specialising in North-Indian and Peshawari cuisines, Gufaa looks and sounds like a cave - and a rather filmi one at that - but the true delights of the place are in the menu. From the Sikandari Raan Kebab to the Chengezhi Chai, which is an interesting blend of Kabuli tea and liquors.

Gufaa has an all-kebab appetizers section, in which the assorted veggie Subzi Kebab Milan, the tender chicken Sikandari Raan and the Talwar Kebab (served on a sword) are the best sellers. Among rotis, which is what most people prefer for main-course, the Naan Chengezhi is the best and also most expensive choice. Sprinkled generously with almonds, this roti goes well with the Dal Bukhari or, if you're non-vegetarian, with the Kareli Kinhari, which is lamb shanks cooked in a rogan josh gravy. Other popular gravies include the Goonchao Kheema - which, surprisingly, is a vegetarian dish made from minced cauliflower -, the Lucknowi Murgh Kurma and the Dum Murgh Ke Stew.

The Biryani here isn't Hyderabadi, but hails from further up North. The Lucknowi version is less spicy, more dry, and made from ghee and saffron. This is served not with mirchi ka salan, but with the curd-blended Burhani Raita.

Wrap it up with all-Indian sweets like the Jaffrani Phirni, the Qubani Ki Kulfi or the Jamun-E-Gul, which is your regular gulab jamun stuffed with dry fruits and saffron. For after dinner cocktails, Gufaa has a few specialties, like the gin-based Iran-E-Gulbadan, the grape and almond Anguri Nasha and the Chengezhi Chai. This might all seem a bit much for a Tuesday lunch, but for dinner on Saturday this might just hit the spot.