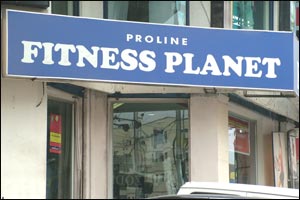 Proline has always been associated with excellent sports wear, be it track suits or T-shirts; and it's good to know that they have maintained their standards through thick and thin. Strong material, bright colors and durable clothes are what we have come to expect from Proline, and it delivers every time. It is with such an impression that you enter the Proline store at Somajiguda, and you are not disappointed.

The store is amazingly huge and well-lit, with enough space to house an army if it should ever need sportswear. The assistants are helpful and more than willing to guide you through your shopping experience. Spread over two floors, the store makes even window shopping a pleasure.

The clothes are bang on target and deliver as promised. There are T-shirts, leisure wear and sportswear in an incredible range of colors. Even those of you looking for that elusive shade of blue to complete your 'blue period' collection might just find it here.

The store also stacks formal wear – shirts and trousers at reasonable prices. Apart from the usual Proline stuff, it also has a selection of Fila sportswear, with everything from bags to diaphanous vests on display. The prices start at Rs. 225, and you could get T-shirts for as low as Rs. 300.