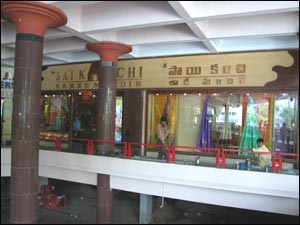 Sai Kanchi Saree Mandir, though a relatively new entrant into the glorious sari retail business, is the initiative of a family with over 25 years of experience in the sari business. Their stock comes from Kanchi, where weavers in their own employ fill the workshop with the gentle humming of over 2,000 looms. The family itself takes charge of the designing process. They control the entire supply-chain from the initial until the retail stage, which means Saree Mandir offers high quality at low prices.

Saree Mandir specializes in pure zari Kanchi designer wedding saris, as well as Benaras, Gadwal and Dharmavaram varieties. They offer embroidered Kancheevaram saris as well.

The store sells only handloom wares, which start at a modest Rs. 1,000. The quaint old-world charm, though, comes for free, along with excellent and courteous service.
EVENTS AT SAI KANCHI SAREE MANDIR
There are no events at Sai Kanchi Saree Mandir scheduled currently.
LEAVE A COMMENT
fullhyd.com has 700,000+ monthly visits. Tell Hyderabad what you feel about Sai Kanchi Saree Mandir!