Delhi Mithai Wala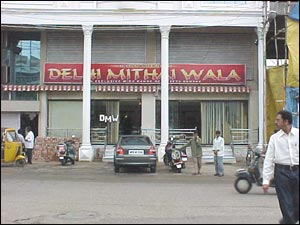 Not quite long ago, Ameerpet Circle was rated the first among the great Indian junctions for vehicular pollution. The snail pace of the traffic that contributes to the above, however, has no indirect link to the desi ghee flavors that escape from the first floor of Delhi Mithai Waala.

The ground floor is as much a visual paradise as it is an ecstasy for your taste buds. From sitaphal sweets to the kaju barfis and the pista halwa, Delhi Mithai Waala is a glittering feast on display. Regulars like the humble jalebis, namkeen mixtures and besan ladoos take their traditional shelf space, while more innovative creations like the Chocolate Delight and Strawberry Dreams occupy eye-catching prominence.

The weight-watchers, doctors and dentists are ultimately heaving a sigh of relief at the Indo-Pak-Bangla doctors' glee at creating an anti-diabetic pill - unfortunately, not sold at Delhi Mithai Waala.
DELHI MITHAI WALA SNAPSHOT
Listed In

Address

Telephone

Distance

Sub-Categories

Year Started

Timings

Closed On

Average Meal Per Couple

Payment Option(s)

Closest Bus Stop

Closest MMTS Station

Add New Field:
EVENTS AT DELHI MITHAI WALA
There are no events at Delhi Mithai Wala scheduled currently.
LEAVE A COMMENT
fullhyd.com has 700,000+ monthly visits. Tell Hyderabad what you feel about Delhi Mithai Wala!