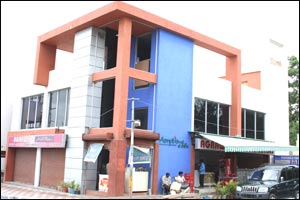 More than the much-touted milkshakes, you'll enjoy a simple glass of fresh fruit juice at Anytime Cafe. Favorites include the Grape, Pineapple and Orange Juices, but it's the ubiquitous Mosambi that's the most popular. Even the carrot juice here is very good and an instant refresher.

The cocktails here are also quite good, but are markedly more expensive than the juices, and take at least twice as long to reach your table. But the Applostra is worth the wait, and served in a long-stemmed flute glass, it's almost too posh to go with the chat, which is another specialty at Anytime.

Other good mocktails include the strawberry-flavored Pink Lady and the popular Fruit Punch. For something more fancy try the five-layered Anytime Cafe Special with guava, mango, pineapple, orange and vanilla ice-cream.

Of the chat menu, people prefer the Bhel Puri and the somewhat-too-sweet Dahi Puri. The Pav Bhaji is a specialty of the house. Anytime also serves something called a Health Breakfast, which for Rs. 55 promises to meet all your nutritional requirements within the optimum figure of 450 calories. Breakfast typically includes badam milk, sprouts, bread, veggies and fruit. For a snack, the Dhoklas and Khandvis here are excellent, and traditional Indian mithai (sweet) is their raison d'etre.

A nice little place, if you have the time and money to spare.