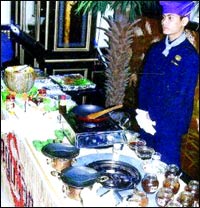 Of the three other restaurants that it shares a roof with at the Ohri's Cuisine Court, MC is the best-loved. And that is saying something.

MC is usually bustling with activity; good luck finding a table for lunch on Sundays. There's something happening here all year round, special menus and themes are planned for Chinese New Year, Valentine's Day and even Halloween! And they throw in some pleasant surprises, like a complimentary cup of Chinese jasmine tea or a fortune cookie at the end of your meal. Plus, it doesn't hurt that they serve excellent food.

A quick runthrough of the must-not-miss kind: the slightly sour and spicy Manchow Soup, or if you feel like something more substantial, have the Phuket Fish (sauted fillets of fish), the Prawn Pepper Salt, or the Chilli Stick Veggies, which are skewered and deep-fried. If you prefer to play it safe, the spring-rolls here are pretty good.

Most people choose the soft noodles for the main course, and team that with chicken or veggies in a Kung Pao sauce. The hot Schezwan Fish And Chicken Green Pepper are also perfect accompaniments to the noodles, as also are the Fried Rice With Tomato And Mushrooms or the somewhat bland Bamboo-Rice With Black Mushrooms. For that sweet finish, try the Honey Noodles With Ice-Cream, or the Fried Ice-Cream. If that's not variety enough, you can always stop by at Havmor on the ground floor.

Pick a weekday to visit if you're not crazy about crowds, but do stop by if you enjoy Chinese food. MC comes up aces in both assortment and taste.