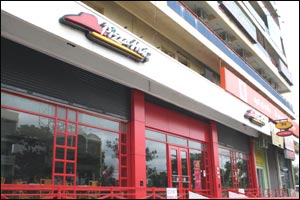 Of all the branded pizza chains out there, this is where you'll find the most constantly innovative menus, the youngest, liveliest waiters, and, arguably, the best pizzas in town. All at a price, of course. But by general consensus, it's money well spent.

With the largest dine-in area of them all, Pizza Hut attracts a lot of families, and they also have a fair-sized play area for children by the entrance. With booths big enough for four people and tables for the larger groups, the restaurant is pleasantly designed with large French windows. And the service is fairly quick.

There's very good choice here, from snacks to dessert. If you decide you won't last till your pizza's done, then get the Potato Wedges or the delicious Cheese Garlic Bread. Mushroom lovers have the delicious Spicy Garlic Mushrooms. For something lighter, try the salads, Peanut, Celery And Pineapple or Tropical Chicken.

Enough beating around the bush, now for the main attraction. The Veggie Supreme Pizza is quite a filling treat, with mushrooms, babycorn, onions and olives. For lovers of spice, there's the Exotica, with red capsicum, jalapenos, cheese and olives.

One of the specialties here is the Chicken Supreme, which has all the chicken toppings on it, including Chicken Tikka, Hot 'N' Spicy, Sausage and Plain. Pizza Hut also has Chettinad and Tandoori ranges, which are slightly richer than the rest, both the chicken and paneer versions. In these sections try the Murgh Mazedaar, the veggie Dakshin Paneer, or the Paneer Punjabi.

You can get your money's worth, even if you're not in the mood for pizza, with the pasta. They have spaghetti and fussili pasta, with a choice of the tomato-based Arabiatta or the Mushroom Cream sauce.

The selection of desserts isn't extensive, but what is available is all pretty good. The Brownie Fudge Sundae is excellent, with the warm chocolate brownies melting two scoops of butterscotch ice-cream topped with chocolate sauce. The Apple Pie is also served warm, with ice-cream and a sprinkling of cinnamon.

Pizza Hut also has some Meal Deals for 2-4 people, where for Rs. 300 or thereabouts, two people with get a medium pan pizza, garlic bread and two soft drinks. The Supreme is a combo meal for four diners, with one family-size pizza, potato wedges, garlic bread and a pitcher of soft drink, all for around Rs. 500.

The prices here are steep, make no mistake - but then it's hardly an everyday sort of place. This is a particularly good place to bring someone who's treating you to dinner. But it's addictive, and as mentioned earlier, if you are going to spend that much, you'll be happier doing it here than anywhere else.
EVENTS AT PIZZA HUT (BANJARA HILLS)
There are no events at Pizza Hut (Banjara Hills) scheduled currently.