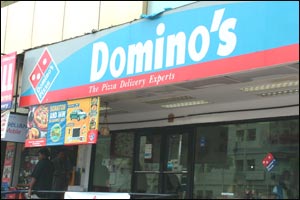 On the Speed Dial list of hostelers (who've had it up to here with canteen food), people working over-time (motto: just put it on the boss' tab), and any average dedicated foodie, you will find the Domino's hotline. When it comes to ordering in, this pizza place is usually top choice.

And unlike other outlets, with their pastas, appetizers and dessert trays, at Domino's it's only about the pizza. Garlic Bread-Sticks with a Cheese Jalapeno Dip is the most you'll find in the starters section. But this is a most satisfying nibble, so we won't complain.

The Thin-Crust here is the best of the lot, even if it means you spend a little more, it's worth it. All flavors are enhanced with a light crust. For instance, the Veggie Gourmet, with its golden corn, mushrooms, black olives and cheese, is doubly divine because of its thin-crust. Vegetarians also enjoy the Deluxe Veggie and the Mexican Green Wave, with capsicum, jalapenos and olives.

Hot 'N' Spicy Chicken is also very popular, thanks to its extra-spicy red peppers and crunchy onions. The Golden Delight, with barbeque chicken and peppers, is also good. Domino's is the only outlet that serves pork pepperoni, which is great with the extra-cheese topping.

For dessert try the Cinnastix, which are bread-sticks dusted and baked with cinnamon and served with apple sauce. So much nicer than the staid Chocolate Brownie.

Not much less expensive than the other places, Domino's is still the preferred choice because they have some really yummy pizzas that are unique to the place - especially in the veggie section. So even though the restaurant outlet sees mostly empty tables, the kitchens here are busier than most.