Balaji Mahesh Mithai Bhandar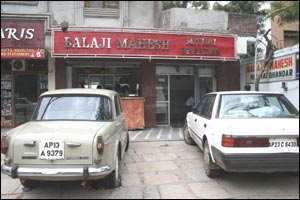 Of the most scrumptious creations Bengalis have given the world, rasmalai is up there with Sushmita Sen and Prannoy Roy. And if you live in the general vicinity of Masab Tank, you won't need to make the trip to Madhuban Sweets - just drop into Balaji for your dose of roshogulla bosho meeta and other divine substances.

Apart from the Bengali sweets - of which the cham cham is also totally delish - Balaji's has very good kaju barfis. And some unusual sweets like Choco Kaju Barfi, rolled in chocolate sprinkles, and the Strawberry Barfi. Classic mithais like kaju anjeer roll, rajbhog and ajmeri kalakhand are very popular. And the prices range from Rs. 120 a kg for Bengali sweets to up to Rs. 350 for the richer mithais, like anjeer roll.

In all, a welcome break from all the 'pure ghee' sugar factories out there.
BALAJI MAHESH MITHAI BHANDAR SNAPSHOT
Listed In

Address

Telephone

Distance

Sub-Categories

Year Started

Timings

Closed On

Average Meal Per Couple

Payment Option(s)

Closest Bus Stop

Closest MMTS Station

Add New Field:
EVENTS AT BALAJI MAHESH MITHAI BHANDAR
There are no events at Balaji Mahesh Mithai Bhandar scheduled currently.
LEAVE A COMMENT
fullhyd.com has 700,000+ monthly visits. Tell Hyderabad what you feel about Balaji Mahesh Mithai Bhandar!