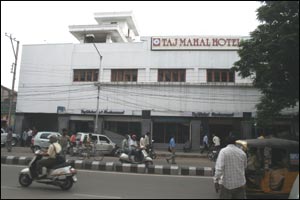 One of the oldest and most loved breakfast joints in town, Taj Mahal Hotel is where office-goers of the neighbourhood, families out shopping and young cricket-players from Parade Grounds, flock when the craving for a piping hot masala dosa takes them. And it's not just the dosas that draws them in droves. Even something as universally eschewed as the rawa upma finds pride of place here as the tastiest that has ever been made. That should tell you all you need to know about Taj Mahal.

Located very near the maddeningly busy Patny X-roads, this dawn-to-dusk restaurant has been there since the time of the horse-drawn tongas. And there have, of course, been changes and additions since. An AC hall, a takeaway counter and even a drive-in section now splits the original TM. And every section is crowded most times of day because people come here for snacks, meals and even their evening cuppa.

As mentioned earlier, TM is most famous for its crisp masala dosa, served with the excellent sambar and coconut chutney. This is their hottest seller, and close on its heels are the idly and vada. And of course, the rawa or 'white' upma, which is made with pure ghee, garnished liberally with cashew-nuts and also served with chutney. Puri and aloo curry, and the onion uthappam make for great evening snacks.

For a proper meal, try the thali here. With endless refills of the sambar and rasam, tuck into a plate of rice, dal, vegetable kurma, pickles, pappad and lovely set-curd. For dessert try the basundi, which is not too sweet and just right, the gulab jamun or the rasmalai. Fresh fruit juices are also available through the day.

From an entirely different era to this one, Taj Mahal Hotel has kept its customers coming back by getting its basics dead right - great food, reasonable prices and good, clean ambience. The rest, they say, is history.
LEAVE A COMMENT
fullhyd.com has 700,000+ monthly visits. Tell Hyderabad what you feel about Taj Mahal Hotel (S D Road)!