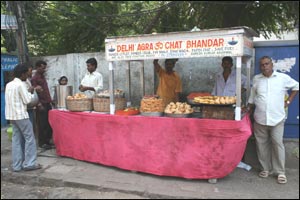 Even though this is the most common name for a chaat bandi, this one deserves a special mention. And maybe even an award of some sort. For here you will find the definitive plate of aloo tikki.

The only mobile chaat stall to make it to our list of toppers, Agra Chat does brisk business with the office-goers who work nearby and the Parklane shoppers. While it has stiff competion from across the road, and next door where a kachori wallah has set shop, Agra is the busiest of the lot.

Coming to the much-loved aloo tikki. The cutlet is first fried till its crisp and has soaked oil in at every pore; it is then smothered in cholay, chutneys and curds. Stick a spoon in it and you're set for a blissful 10 minutes. Served piping hot, the aloo tikki is also scrumptious without any of its embellishments and just the chilli and tamarind chutney. In fact the best way to do it is to first eat it like he makes it and then order one customized.

The pani puris here are also very popular, and extremely spicy. Fear not, because Agra Chat is equipped with water sachets to put the fires out. The kachoris, served like the cutlet, are also good.

The only truck you'll have with this place is that the chaat is too spicy. But with a Kwality Walls vendor ever at hand, this shouldn't be much of a problem.

EVENTS AT AGRA CHAT BHANDAR
There are no events at Agra Chat Bhandar scheduled currently.