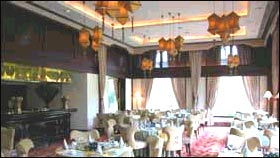 If you had to go really far out, and money was no object, what do you suppose would result? Among other things, a monstrously lavish grub-hub like the Golden Dragon. Of course, nobody expects understatement from the Taj Krishna, but GD still overwhelms at first sight.

Heavy drapes, ornate lanterns, obscure Chinese symbols (aren't they all?), gilt-edged well, edges, and huge French windows that look out onto lush shrubbery and lawns. So we've pretty much established that tastes run rich here. If you're in the mood for a proper full-course no-holds-barred kind of dining experience, then head this way, and we hope you have time on your hands.

Just as you're settling in and getting comfortable, you're handed a menu that quite bombards you with choice. Obviously your usual fried rice and veg. manchuria won't do. Let's throw you a line, then, and tell you how you can make the most of your time here.

You will have noticed the chefs busy at a counter. Moist, succulent dim-sums are in the process of being created, so make sure you order at least two at a time. While you wait, sip on your Jade Soup, spinach-based with asparagus or chicken. Or try the spicy Jiang Jin Hot 'N' Sour soup. Returning to your dim-sums, they are stuffed with chopped mushrooms or chicken. Dim-sums are either steamed and pan-fried, or just steamed. Either way, they're easy on the waistline.

For your main-course, do try the rice noodles which go well with most everything. Team that up with the Assorted Vegetables in Garlic Sauce; Broccoli, Beans, Asparagus And Spinach In Garlic Wine Sauce; Tofu With Black Mushrooms In Spicy Sauce; Crispy Lamb, Chicken Kung Pao; or the Butter Garlic Prawns, which is more of an entre, but is so yum it doesn't matter how you eat it. GD serves meats, including lobsters, prawns, tenderloin and pork.

Apart from Darsaan (flat noodles tossed in honey), Toffee - Crispy Fried Caramelized Fruit and Date Pancake, all of which you will find in other Chinese restaurants, you are also served a variety of warm, syrupy pancakes with lichee, pineapple, banana or other fruit extracts.

Helpful service, spacious interiors and plenty of sunshine coming through the windows makes this restaurant an almost idyllic place to visit for a late lunch. You'll find tastes and flavors here that you won't elsewhere in the city. Besides, GD has been getting it right from the day it first opened. Drop in sometime and find out how.
EVENTS AT GOLDEN DRAGON (TAJ KRISHNA)
There are no events at Golden Dragon (Taj Krishna) scheduled currently.
LEAVE A COMMENT
fullhyd.com has 700,000+ monthly visits. Tell Hyderabad what you feel about Golden Dragon (Taj Krishna)!