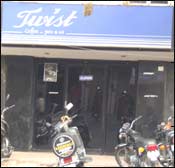 If you thought Twist was small from the outside, you should peek in sometime. This tiny coffee shop is easy to miss along the crowded East Marredpally road, and you're more likely to spot the small crowd of bikes and their jock riders parked outside. Step in and you'll see why some of Twist's customers prefer not to come in, they're probably prone to claustrophobia.

Most evenings see a big student crowd at Twist, but then it doesn't take every large numbers to fill up the place, around ten people should do it. From day one it was clear that this was exactly what Marredpally needed, a place for friends, music and coffee that you can afford on a pocket-allowance.

Music is very important here, and is usually played at blasting levels. Hip-hop and pop are most loved, but we must warn you, if the DJ's feeling particularly romantic you'll be subjected to an endless playing of Bon Jovi's Bed Of Roses.

The menu here is small, but if you're just looking for a good cup of hot coffee you won't be disappointed. The Irish Coffees, the Latte and Cappuccino are the most requested hot drinks. For something cold try the Frappe, but if you're looking for a real refresher the Iced Tea is a better bet. Tell them exactly how you like it, and you'll get your money's worth.

The snacks here are alright, the Grilled Chicken Sandwich being the best of the lot. The sweet-things aren't particularly good, but one of the best features of Twist is that they're very open to suggestions and generally eager to please. Run by a couple of 20-somethings, the place is very informal and if you're new to the area, a good meeting-ground for friends or
just people to hang out with. Students of French from Alliance Francaise, cast and crew of the Expressions theater-group and regulars at the internet cafe nearby, form the usual crowd here. So drop in sometime and meet the neighbourhood.