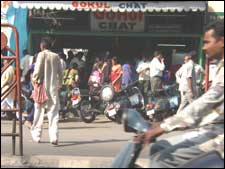 There's a before and an after in Gokul's existence. They're technically exactly the same. For every Hyderabadi, however, the divider is something no amount of time will erase.

Then, maybe, it's not time - it's chaat. After a plate of whatever you like best here, it's possible to forget anything. Even forgive.

For a popular place, Gokul is surprisingly difficult to spot. We wish we could tell you to follow your nose, but that's never a wise thing to do on a busy street. So just get to Andhra Bank at King Koti, and look down the road till you see a knot of people holding up traffic. They also seem to be stuffing their faces. You're there.

Gokul Chaat is always crowded. Always. Crowded. Any questions here before we move on?

And if you're expecting a killer menu, with all sorts of exotic chaat, then you'll be disappointed. They sell the same dishes here that you'll find anywhere else. But for some reason, people travel, sometimes from right across the city, to come here, jostle with a hundred other people with the same idea, stand on a crammed roadside or perch themselves precariously on their two-wheelers, and eat what legends claim is the best chaat this side of the planet.

Another interesting thing you'll observe is that there is no one particular dish that is popular, everyone orders everything, including the mirchi bajji. So making up your mind might take you a while, and if you lack the tenacity of a bulldog, you will find yourself being slowly nudged away from the counter. This after it took you 10 minutes to make your way there. So you decide quickly on something random, and wait for the kitchen to whip it up.

While this might be a risky maneuver in other places, at Gokul it doesn't really matter what you've ordered, it's usually good. But some things are better, like the dahi kachori (and other things dahi), ragda cutlet and samosa (hot sellers) and pav bhaji. As mentioned earlier, the mirchi bajjis here are also very popular.

So what does Gokul do differently that has people flocking? To put it simply, the food is yum. Whether it's the tanginess of the chutneys or the succulence of the cutlets or the crunchiness of the samosa, whatever it is, it works. On top of all this, the portions are generous and prices reasonable. You do the math.

And as for the before and after, even if you cannot forget, forgive.