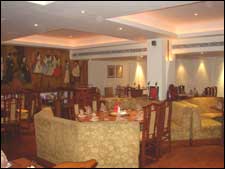 For a while after this restaurant opened, some people insisted on calling it Made In China. An understandable enough error, and it harmed no one. Soon enough, though, the real name became well-known. This is where the rich and famous had their power-lunches. This is where the newspaper journos got their embarrassing P3 shots of film stars stuffing their faces. And eventually people even started dropping in for the food.

Around four years after it opened, MC was renovated, presumably to keep the buzz alive because not much had changed about the place. They don't, however, have to resort to such measures. Nobody, but nobody, cooks a pomfret like they do. It doesn't matter which one you order, though the spicy Schezwan version is excellent. The chef here has a special way with all seafood. But the good news is that you could go veggie and still have a fantastic meal.

Start off with the speciality of the house, the dim-sums, which are dumplings stuffed with veggies or chicken. Or get the Crispy Corn Chilli Pepper, which makes for a satisfying nibble while you wait. As do the Prawns In Butter Garlic Sauce.

Now for the main-course. Give the conventional a miss and go for the Cantonese Rice Noodles, or the oh-so-perfect Burnt Garlic Fried Rice. Both of these go well with the subtly flavoured Babycorn And Mushrooms In Mahalak Sauce, the fiery Tsing Hoy Chicken, or the Hubei-style Fish. If your wallet doesn't protest too much, get the Lobster In Schezwan Chilli Sauce or the Hot Garlic Crab.

Darsaan, noodles tossed in honey and topped with almonds, is served with ice-cream, and this makes for a typical Chinese dessert. The rich Date Pancake With Ice-cream is another hot favourite with the sweet-toothed.

A good option to try all of the above - well, almost - is the lunch buffet. Priced at Rs. 189 + taxes weekdays and Rs. 289 + taxes on weekends, it's a great peekaboo into 'most everything the restaurant has to offer.

MC's interiors are pleasantly designed, and it's a good place to entertain large groups, because there's enough space and privacy for everyone. Plus, the service is fair and swift. Even if you think you get excellent value for money here (and a lot of people do), you're not likely to drop in very often. MC does have some very good competition in the area, but there are certain culinary ecstasies only the kitchen here can accomplish.
EVENTS AT MAINLAND CHINA (CLOSED)
There are no events at Mainland China (Closed) scheduled currently.
LEAVE A COMMENT
fullhyd.com has 700,000+ monthly visits. Tell Hyderabad what you feel about Mainland China (Closed)!