Kings & Cardinal (Bakery)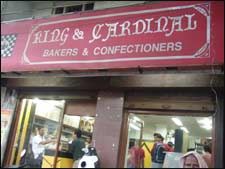 Immensely popular with all the office and college-going crowd of the area, K&C has long achieved landmark status at the insanely chaotic Himayathnagar X-roads. The food is affordable, delicious (if you know what to get) and served up real quick. So what if it's usually standing room only, and the decor is, at best, basic? Nobody notices, nobody cares.

Like all old favorites, this one is better enjoyed if you know what the best of the lot are. While just a few minutes of standing near the counter will tell you that pastries are the No. 1 choice, you haven't really visited K&C if you haven't tried the pizzas.

Choosing shouldn't take you very long - it's between Veg. and Chicken Pizza. And they're both scrumptious. Simple, like everything else at the place, the pizzas come with a basic onion-tomato-cheese topping and a tangy sauce that contains all the magic. At Rs. 34 and Rs. 36, they're meals in themselves.

Apart from the Veg. and Chicken Burgers, you will also like the spicier Chinese snacks like the Chicken 65, Spring Rolls and Veg. Manchuria. The Chicken Tandoori is also good for a nibble.

As it is a bakery, K&C is also famous for its cakes and pastries. Black Forest, Pineapple and Butterscotch are the best options. And the Chocolate Gateau cake is quite a rich treat. And in case you have a special event planned, the cakes will need a 6-hour notice for preparation.

There are many must-visit places in the neighbourhood, and K&C has been among the top three for nearly a decade now. So even if you're stuffed from eating at the other joints, do drop in here if you're around. Why fight tradition? Especially when it involves the best pizzas this side of town?
KINGS & CARDINAL (BAKERY) SNAPSHOT
Listed In

Address

3-5-907, Himayathnagar X Roads, Himayathnagar, Hyderabad - 500029

Telephone

Sub-Categories

Average Meal Per Couple

Recommended Dishes

Parking

Veg/Non-veg

Other Features

Other Specialities

Year Started

Timings

Closed On

Payment Option(s)

Closest Bus Stop

Closest MMTS Station

Add New Field:
EVENTS AT KINGS & CARDINAL (BAKERY)
There are no events at Kings & Cardinal (Bakery) scheduled currently.
LEAVE A COMMENT
fullhyd.com has 700,000+ monthly visits. Tell Hyderabad what you feel about Kings & Cardinal (Bakery)!