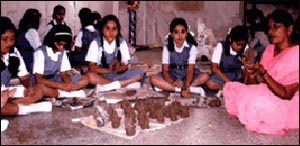 Among the most sought-after schools in the city, Bhavan's Vidyashram (as the one at Jubilee Hills is called) is everything you would expect from it, and then some. With a prolific bunch of kids rallying all around campus, the result of each creative pursuit has to be "far out". The school is quite a force to reckon with at every level of literary clashes, sports outings and even artisitic excellence.

What sets Bhavan's apart is the value system and the cultural awareness that it instills in the students. There is time dedicated to meditation, spiritual awakening and even Indian forms of greeting. "Namaste, I salute the divinity within you," is how the students and teachers greet each other. The respect and love that the teachers receive here is, to them, overwhelming. The student-teacher rapport is also great.

Bhavan's is about education. Not literacy, but education. And it makes no fuss about it. The kids study hard during class hours, take up vocations, play competitive sports, battle in out on the dias and on the stage, and wield the easel with aplomb.

The school has two tennis courts (clay), a basketball court, cricket facilities, and indoor sports facilities to boot.

When your kids leave here, they take along a sense of confidence and self-belief. And that is the most important thing an institution can give its students.
LEAVE A COMMENT
fullhyd.com has 700,000+ monthly visits. Tell Hyderabad what you feel about Bharatiya Vidya Bhavan's Vidyashram (Jubilee Hills)!