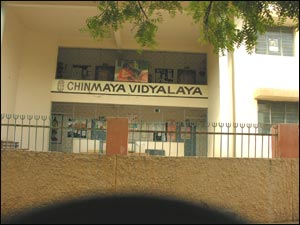 An eerie silence, and a very quiet line of autorickshaws will greet any pedestrian trying to find his way out of the Kundan Bagh bylanes and chances upon the massive boundary of the Chinmayya Vidyalaya. Inside, too, the corridors are deserted - not because there aren't any brats, but because the teachers are perhaps smarter.

Chinmaya Mission, the parent body of Chinmayya Vidyalaya, operates more than 75 schools in India. These are regular schools registered under the state and/or the national system, for a Higher Secondary Certificate. True to its convictions, Chinmaya Vidyalaya, too, is on to the track of providing an integrated child development program.

The lack of buzz is made up for by walls upon walls of chart papers, clippings, crafts and articles decorating the classrooms and the lounge. With regular courses offered including Science, Maths, Social Studies, English and Telugu, and a large playground appended to these, Chinmaya Vidyalaya hopes to inculcate a holistic approach to education in its students.

While the staff-room and the office are misleading with their bureaucratic appearance - littered with paperwork and a nonchalant staff - the students are bright and smart, if not outspoken. The admissions are through an entrance test, and the fee package comes out around to be between Rs. 7,000 and Rs. 10,000 per year, depending upon the class. There are enough extra-curricular activities to keep the students out of mischief, and the children are encouraged to excel in sports, albiet on their own.

Chinmaya Vidyalaya hopes to fully inculcate Swami Chinmayananda's Vedantic philosophy, "Children are not vessels to be filled, but lamps to be lighted." We believe it does, too.
EVENTS AT CHINMAYA VIDYALAYA
There are no events at Chinmaya Vidyalaya scheduled currently.